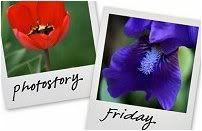 Hosted by Cecily and MamaGeek
My last little bit of summer is gone. We spent so much time picking these blueberries. Grabbing a bucket, we would head out to the bushes. My father-in-law planted them when they first moved into their home. There are several varieties so they ripen at different times. I think Livi ate as many as she picked. You could tell when her little belly would get full, because then the bucket would start to get full!
We picked these blueberries while we
shacked up
with my in-laws while we were in transition from Texas to Kentucky. We have savored these for as long as we can. We made
blueberry-yogurt muffins
. Husband makes Livi blueberry pancakes every Sunday. We sprinkle them on cereal. But they are gone.....oh well. We now live close enough to go next summer and pick twice as many...no, wait...if two gallon baggies only lasted three months, then I will need 8 bags. Dang, that is a lot of picking! But so worth it to have fresh berries all year long.
**the baggies were only half full....so technically it was only a gallon***
Happy Thursday, y'all. So what is your favorite thing to make with blueberries?