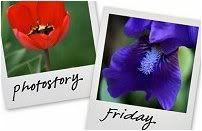 Hosted by Cecily and MamaGeek
Happy Birthday to my little princess. When I asked her what she wanted for her birthday, all she said was chocolate cake. We usually make this as a
bundt
cake, but we had them as cupcakes at my
surprise party
this summer. This has been a favorite of our family for as long as we have been married.
Trust me, this is a cupcake you want to know. It is a chocolate chocolate chip cupcake.
1 box devil's food cake mix
1 box of large pudding (the cook and serve kind)
1 cup sour cream
4 eggs
1/2 c. oil
1/2 c. water
12 oz. chocolate chips
Mix all until
thoroughly
mixed. Just stir in the powder of the pudding mix (don't prepare it like the box says). Add in the chocolate chips after everything is mixed. For a cake, bake at 350 degrees for one hour. I made these as big muffins and it took almost 35 minutes. Mini muffins only take ten minutes.

edited to add: the cream cheese frosting is simple: one brick of softened cream cheese, a splash of milk (probably 2T or so)....then just keep adding powdered sugar until stiff enough to pipe through a bag. I used probably 2 1/2 c. , but could have used more. Mine was a little soft. Mix until combined. To pipe it on the top, I put it in a ziplock bag. Snip off the corner. Pipe in concentric circles on the top. Enjoy!
Hey hey, back away from the cupcakes. I am still trying to get a good shot! Boy, yeah, you...get your
little
mitts away from my princess sprinkles.
PS, why is it every time I say bundt I think of My Big Fat Greek Wedding? I love that movie!