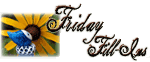 1. One of the best concerts/plays/movies I ever saw that I really didn't think I'd like was any of Livi's Barbie movies like Mermaidia. She is so about all things princess these days.
2. Pretty much any of the muffin Monday muffins is a recipe I recently made (or meal I recently ordered) that was delicious!
3. It's time for rest and relaxation. Husband has a four day weekend!
4. Crystal light lemonade blended with ice is quite refreshing.
5. If I never hear the word maverick again, it'll be too soon.
6. To one side of the curving road was a yard strewn with leaves, and on the other was a ditch.
7. And as for the weekend, tonight I'm looking forward to catching What Not to Wear, tomorrow my plans include playing with the kids and Husband and Sunday, I want to make a menu and go grocery shopping AFTER I sleep in!
Happy weekend, y'all!