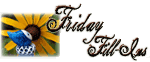 1. Follow the
map and you won't get lost
.
2.
Sunscreen and my wine opener
is something I always take with me on vacation.
3. To achieve your goals, you must
put your heart into it and you will succeed
.
4.
I really am friendly
is something I'd like you to know about me.
5. I have a
desire to be a better photographer.

6.
Fat
floats.
7. And as for the weekend, tonight I'm looking forward to
wrapping presents
, tomorrow my plans include
Livi's 4th birthday party
and Sunday, I want to
spend time with Husband's parents and sister's family before they have to leave.
This is the first time we have lived a day's drivable distance to his family. So to be able to celebrate a birthday is fun! Thanks Aunt M, Tio and cousins M and E, Grandpa and Grandma,....we are so glad you can be here to celebrate with us!
Just a little peek into our day today....will post the rest of the "family" pics tomorrow!
Happy Friday y'all