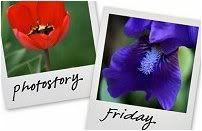 Hosted by Cecily and

MamaGeek
I am digging back to this past summer's pictures...
This past summer we had a hectic transition from TX to KY. This picture was taken during the month long stint of living with my mom. There is this awesome park in the big town next to my podunk America town. Totally worth the drive into town for a little fun. This park had towers, bridges, swings, things to climb on, ramps to run down, and just about every fun thing a kid could have fun. Will would try to walk down this rope bridge every single time we went. Will is more cautious than Livi. But finally by the end of our month in OK, he mastered this bridge. He would practically run down the little ropes.
Just like this rope bridge, we have been in KY for almost three months now. He is excelling at preschool. He is starting to read. He is excited about learning addition. He is making friends. He loves the days when he they don't have time to finish some work. Then he gets to finish "homework". Seeing him master these basic skills is so exciting!
He is mastering just one more rope bridge in his little life. That is what makes me excited!