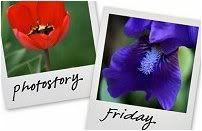 Hosted by Cecily and

MamaGeek

Though this picture was taken this past March when we lived in Texas.... guess what is falling here....here in Kentucky! This evening around dinner time, itty bitty flurries started turning into mongo sized flakes. The kids tried to go outside and catch them on their tongue. Went outside BAREFOOTED....so needless to say, before I could even grab the camera (which was an arm's length away), they were ready to come back inside the house! Maybe there will be enough snow in the morning to get a few shots. But for now, well, all I have is a recycled picture...kind of like re-gifting, but nicer.
Happy Thursday, y'all.