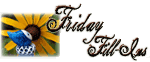 Friday fill in
courtesy of the talented
Janet
.....whose dad is doing better, I do hope!
1. My stomach
has never been the same after having kids 16 months apart. But I am ever so thankful for those kiddos, so I will take a squishy tummy!
2.
Stuffing (changed over the years from the notes his mom wrote out years ago. I can't eat pork, so we use turkey sausage)
is what I ate the most of on Thursday.
3. The yard
is going to look bare with the trampoline put away for the winter
.
4.
In the presence of laughing kids who are totally being "best friends"
is where I'd rather be at any given time.
5. The smell of
Root pumpkin spice and mulled cider candles
reminds me of
fall, Thanksgiving, and the weekend of our wedding
.
6.
For Will to sleep in until 7AM every day
is what I need right now!
7. And as for the weekend, tonight I'm looking forward to
vegging with the family
, tomorrow my plans include
anniversary dinner at one of those fun Japanese places
and Sunday, I want to
enjoy the lazy day after I sleep in, of course
!
Happy Friday, y'all!
edited to add: I wrote this great post last year about our anniversary: if you want to see 'vintage tommie and Husband" and how we met....go ahead and read it:
Happy Anniversary (from 2007)