On Thursdays, Will has preschool and Livi doesn't. To make the day a fun day, we call it "girl day". A day for just us to do girly things like paint nails bubble gum pink and go get a "
Star Muffin
There is not a real Starbucks here. It is one of the ones in the Barnes and Noble. The B&N that doesn't open until NINE AM. Nine?? If I haven't had a cup of coffee by nine, chances are I am sick in my bed.


After dropping Will off, we needed a few groceries. So Livi and I headed to the grocery store. I had a brilliant idea.....let's just get a doughnut from the bakery inside the grocery store. I know the kids have NEVER had a doughnut. Sugar, flour and frosting: what's not to love.
Livi wasn't quite sure what to do with it. She said, "There's white ones, and blue ones, and green ones too!" She loves those little sprinkles on the top. I told her she could pick it up to eat it.
Livi: "Doughnuts are good.....super good good!"



Livi: "Once your tummy gets full, you have to stop. " **I really need to apply that rule to my own cravings!**
Finally, the funniest thing she said about the doughnuts: "Why didn't you ever tell me about these?" That my dear, is a good question!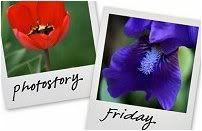 Hosted by Cecily and MamaGeek