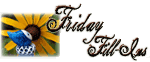 1-3 courtesy of
Mar
this week.
And...here we go!
1. Give me
some Windex
and I'll
shine my sink
.
2. Whenever
the kids get out of the tub, I love to just sniff them
.
3. I wish
Josie would stop tooting...seriously, my toes are starting to curl
. ***Pic taken by Livi***
4.
Papa Johns cheese and chicken pizza
was the last thing I ate that was utterly delicious. **
lately we have been picking up Papa Murphys...but tonight just ordered, it was really good**
5. To live in this world
make choices that will keep you sane, happy and peaceful
.
6. Other than this one, Lisagh at
Grosgrain Garage
is the last blog I commented on.
7. And as for the weekend, tonight I'm looking forward to
pizza with the family
, tomorrow my plans include
taking care of Will and Husband
and Sunday, I want to
sleep in and catch up on laundry
! Happy Friday, y'all!
Friday fill in
courtesy of the talented
Janet
...