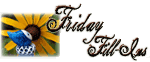 Friday fill in courtesy of the wonderful Janet

1. When I fell in love, I fell fast!
2. It is February when the flowers bloom and it heats up outside here in Texas!
3. Oh no! The internet connection is down, I might get the ironing done finally.
4. Any fluff reality show (my new fav is the one with Tila Tequila) is the craziest tv show ever.
5. Cheese and crackers make a great meal!
6. I hope we are in KY long enough to plant a garden.
7. And as for the weekend, tonight I'm looking forward to pizza with the family and watching the storm, tomorrow my plans include a date with Will and Sunday, I want to sleep in!