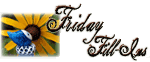 Friday fill in courtesy of the wonderful Janet

1. Tonight I saw my toes with OPI's new color Mon-Sooner or Later on them.
2. Several glasses of wine makes me wanna dance!
3. Splitting a few appetizers between friends is a great dinner.
4. Anyone at our new post in a few months is someone I'd like to get to know better.
5. The smell of rain reminds me so much of springtime!
6. A little magic spray and a Hello Kitty or Cars band-aide and that made it all better.
7. And as for the weekend, tonight I'm looking forward to putting my feet up, tomorrow my plans include running errands and Sunday, I want to (have to) go to a kiddie birthday party!

Happy weekend y'all!