Livi is a thumb sucker. She has always been a thumb sucker. I think I even have a sonogram of her sucking her thumb. Trust me, I tried to get her to take a "binky"....but no, she has always wanted her thumb. Along with the thumb, she wants her bunny. My brother calls her a "secret sucker". She holds one ear of her bunny in her thumb sucking had, while rubbing the other ear with her other hand. Over the years she has rubbed a hole in that ear.


One year went by then another....


Six days before her second birthday, her Daddy deployed for 15 months. This shot appearred in the Austin paper. It was also one of my first blog entries:
Stuff Portrait Friday: Freedom
. Probably not the best time to try to take the bunny to stop the thumb sucking....(the only time she sucks is when she has the bunny.)
Fifteen months later in Dec '07, Bunny is the one thing she wanted to bring to the
welcome home ceremony
. She was worried her Daddy forgot Bunny. Again, not a good time to take Bunny away.
That summer we moved......remember the chaos of that summer:
Went to the
beach '08
for a week
We
SOLD
a house.
Lived in
Oklahoma
for almost a month....most of it without Husband
Lived in
Ohio
for three weeks
Bought a house in KY and
painted
every square inch of it
By now Livi is three and a half years old. She still has Bunny
Last night, on her own free will, she announced she was ready to give up Bunny. We have had a tiny gold ring in a princess Limoge box. We promised her when she was ready to put Bunny away for good, she could have the princess box and the ring. Going to sleep was a bit rough, there were a few tears., but she did it. All by herself! First thing this morning...Thursday, May 28, 2009, she earned that golden ring!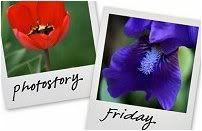 Hosted by Cecily and MamaGeek