This past weekend, during some gorgeous eighty degree weather, I noticed some little green shoots sprouting up around the trees in the backyard. We moved here in the summer....so this was a little sweet surprise. I can't wait to see what these will be! I stepped out just after noon to take these shots. I noticed it was getting very chilly.
Livi has already found a teeny tiny little flower to pick. I have a tiny "mom's" vase...but even that is too big for her baby blossom. I usually float these in tiny salt cellars. By now, I am thinking, "It is really cold out here." Livi is starting to shiver.....I tell her, "Run inside, baby. I'll be in to turn on the fireplace for you." I was eyeing the tree's blooms out front and wanted to take just a few shots.
I walk over to the front of the house. The wind is really starting to pick up. Now I am shivering so much I can't even focus. This shot is so blurry as a result. But there is a little bit of bright pink and green and yellow. Whew hoo....waiting for spring.
just a bit of a PS....it is now snowing. There is probably two inches on the ground. Remind me why I wanted seasons??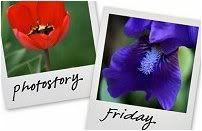 Hosted by Cecily and MamaGeek