This is a fountain in the fish pond at my in-laws. It was kind of cool to see the fish swimming under a thin layer of ice. But this pond holds many other memories as well. When Will was just a toddler, he fell into this little pond. There is a picnic table with chairs surrounding it, just to the side of this pond. Will was standing in a chair. I was near the table but not it, just casually watching him having a good time with his aunts. All of a sudden, I saw his chair starting to tip.

Starting to tip in the direction of the pond.....a pond surrounded by huge paving stones. Quicker than I think I have ever moved, I was there in a second. He was already face down in the pond. I do remember I had a skirt on...at least it was only knee length. I am SURE I had on some cute shoes too. But that mom-sense kicked in....keeping one foot on the ground, I threw my other leg into the pond hoping it wasn't that deep! I managed to scrape the entire back side of my leg along the edge of the stones. But I came up with a handful of kid. He was not even in the water more than two or three seconds. I figured out that the little fish pond is only about thigh depth..(and I am short....oh wait, not short, fun-sized!)

In any case, three years later, I still think of jumping in to get him every time I go by it.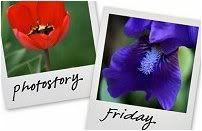 Hosted by Cecily and MamaGeek