I have a confession to make. I love soup. I was so ready for "soup" weather I was making grilled cheese and tomato soup in September. I should have probably waited until November or so.
Maybe I should have some soup criteria for next year:

* must be no warmer than 60 degrees for so many days in a row

* must be willing to make my own bread to dip because I love to dip bread as much as I love the soup.

* maybe throw in a frosty night or two


In any case, I love soup. Tomato soup, chicken noodle soup, beef stew are a few of my favorites. I have had a pear soup at a wine dinner that was delicious! I have never seen a recipe for one since. But Google is my friend, maybe I'll hunt one down.

So tonight, when we were having this peppered beef soup in asiago cheese bread bowls, I knew I had to snap a few pics. This recipe was from Southern Living, so you know it was good! Now that my belly is all warm and happy, I need to go rest!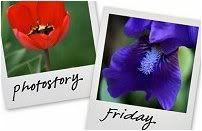 Hosted by Cecily and MamaGeek