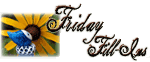 1. The world is
what you make it....take some ownership, my world can be chaotic at times...but most of the time I love it!
2.
Sweet dreams, little buddy
was the last thing I said
as Will went to sleep
.
3. I wonder
if he will stay there all night?
.
4.
May there be peace and love
at the end of all things.


5. There's something to be said for a beautiful watch.....it finally got here! I am so excited! I didn't even have to have any links adjusted or anything. It is a perfect tribute to being 40.

6. Right here with my husband and kids is where I want to be.

7. And as for the weekend, tonight I'm looking forward to veggie pizza with the family, tomorrow my plans include finding the 4th Twilight book and Sunday, I want to veg with the family before Husband goes TDY again.
Friday fill in courtesy of the talented Janet.....may peace be with you.