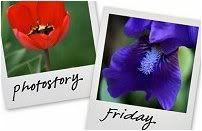 Hosted by Cecily and MamaGeek
I grew up in podunk Oklahoma. There are four seasons there: almost summer, summer, barely summer, and a wee little bit of winter. After thirty years of living there, I married a soldier. Oh the far away lands we would go I though. First stop: Alaska....and Fairbanks, Alaska at that!


We had four seasons as well: almost winter, winter, barely winter, and a wee little bit of summer. After three wonderful years there, we were going to move again. Oh yeah....a chance for some seasons. Where was Uncle Sam going to send us? Can you believe it, we went back to Oklahoma. Granted, I love Oklahoma. My mom lives ten minutes from where we did there. Will was born there. She was able to see him very often. But I really longed for seasons.


From Oklahoma, we moved to the east Bay of California to a picture perfect town. While the weather there is absolutely gorgeous, I still didn't have seasons. After a very short stint there, we were on the move again.


Kansas here we come.....oh, the joy of four seasons. I loved it. I loved wearing a light sweater in the evenings while at the chiminea with the neighbors! But KS was only a school for a year. We were on the move again. So many places were mentioned of where we could go....where oh where would Uncle Sam send us.


You are kidding me? Texas....It was so against my Boomer Sooner upbringing to even think good things about Texas. While I never felt like Texas was my home, I loved the house that became our home there. I made some of the best friends ever there....so sad to say Texas does hold a special place in my heart. But just a wee little space!


When Husband returned from the deployment (which was a year ago on the 19th!!!), it was time to move again. Husband, please Husband, can we please go somewhere with seasons. I love me
some seasons. Kentucky here we come.
I got seasons. We arrived in the summer. I witnessed some gorgeous colors this past fall. Now winter is in full swing....WITH snow!

I had to take a pic of these lights .....they line the patio area. The little caps of snow are so pretty!


More snow on my little evergreen trees out front! I am loving the seasons so far.
Happy Friday, y'all!