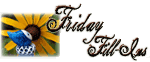 1. Snow
is what the kids are looking forward to the most
.
2. I'm looking forward to
watching the laugh and play on the sled. This small hill is the first time the kids rode their cute little LL Bean sled. They were barely one and two at the time. They would go down this tiny slope time and time again! We have lugged that sled from KS to TX to here....hopefully we can use it again finally!
3.
Husband
is the best
husband
ever!
He picked up Papa Murphy's on his way home from work. I love me some Papa Murphy's pizza!
4. One of my favorite old
tv
shows is
so many come to mind: Brady Bunch, Welcome Back

Kotter

, Dynasty, Love Boat....should I go on??
.
5. I'm done with
my

Christmas

shopping. I do need to find some ornaments...but I have to go into Louisville to get those.
6. The most enjoyable thing around the holidays is
being with family
.
7. And as for the weekend, tonight I'm looking forward to
Papa Murphy's chicken and veggie pizza
, tomorrow my plans include
finding those ornaments (we'll probably make it a girl day)
and Sunday, I want to
see the kids perform the songs they have been practicing at school
!