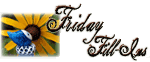 1. Said the night wind to the little lamb,
"Hush little baby, don't say a word...(I sing this to Will every single night as part of his bedtime routine)."
2. The first Noel, the angel did say,
my oh my what a beautiful day This was my backyard this afternoon....you never would have known we missed two days of school on the account of snow this week!
3.
All too soon we will be going
, Over the hills and everywhere.
4. It came upon the midnight clear,
all were sleeping peacefully in their own beds....until around 5AM or so
.
5.
Will and Livi
, Let your heart be light.
6. And the thing that will make them ring is the carol that you sing
sing loudly, sing proudly...just keep singing baby girl
.
7. And as for the weekend, tonight I'm looking forward to
letting the kids open a present
, tomorrow my plans include
a movie with the kids...Bolt or The Tale of Despereaux
and Sunday, I want to
check and double check everything for Christmas
!