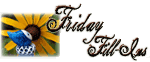 1. Friends are spread near and far....Alaska to Italy to across the US .

2. Take care of your health; it's going to take me to old and grey.

3. I'm ready for to make fudge for my neighbors and the kids' teachers.

4. Root candles in pumpkin spice and mulled cider is one of my favorite perfumes or aftershaves or smells.


5. The oldest ornament I have is a Coke machine with a little mouse climbing up it.....edited to add: I looked all over our tree and could not find it. Makes me wonder where it is. But I did find this one that I have had almost as long. Boomer Sooner! I got this in an ornament exhange when I was in school at the University of Oklahoma.

6. Take some flour, sugar, and some wet stuff, mix it all together and you have muffins.



7. And as for the weekend, tonight I'm looking forward to pizza (veggie with chicken...so really not veggie...but still yummy!) , tomorrow my plans include grocery shopping and finish wrapping some presents, and Sunday, I want to sleep in and make reindeer candy canes with the kids!

Happy Friday, y'all