Livi has a gift to see the pretty in every day things. A couple of weeks ago while we were waiting on Will at his soccer camp, she found another little sister there. Before you know it she had a little bouquet of flowers.....or are those weeds? Either way, we brought them home, put them into a little vase for our dinner table.
I hope you don't ever stop seeing the beauty in things, Livi!

PS,
my favorite picture of her
was also taken that day.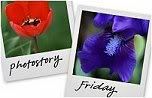 Hosted by Cecily and MamaGeek