This past winter we had a fairly
severe
ice
storm
here in Kentucky. Many people were without power for weeks. Our power flickered on and off, but we never lost it completely. Just when you didn't think it could rain and freeze anymore, there would be another day of it. Hearing the trees limbs moan, groan, and creak with all the weight of the ice was like some horror show. We lost several branches of trees.
Most significantly was this magnolia in the front yard. I seriously didn't think it would come back. One branch snapped right in the middle of the main trunk. Another branch was touching the ground from all the ice on its branches.
So this past spring, I was pleasantly surprised to see these gorgeous blossoms on our little tree.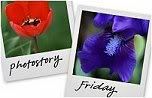 Hosted by Cecily and MamaGeek